01 Feb 2023 | Daniela Jakobsen
Start of the project year 2023
Expert symposium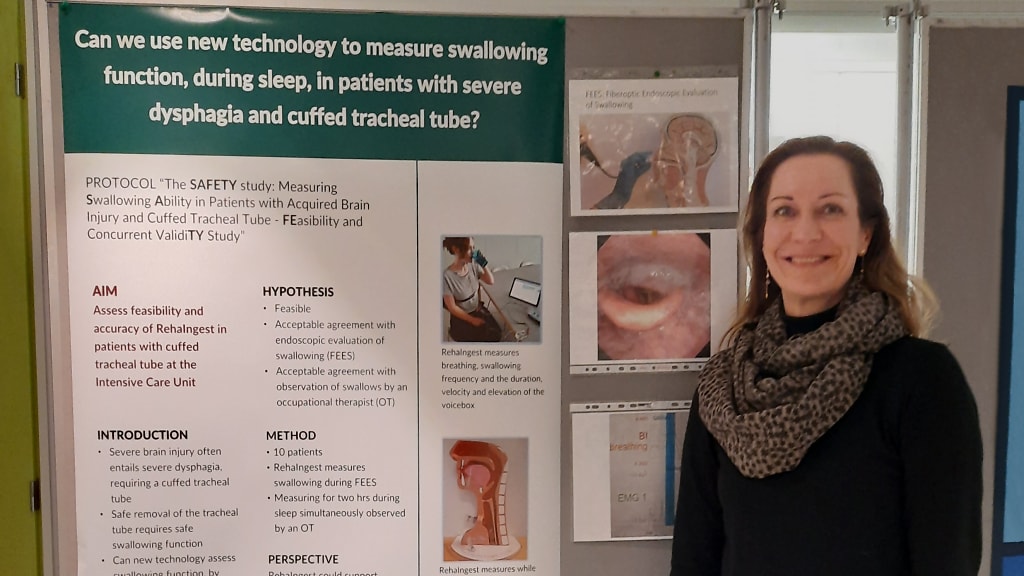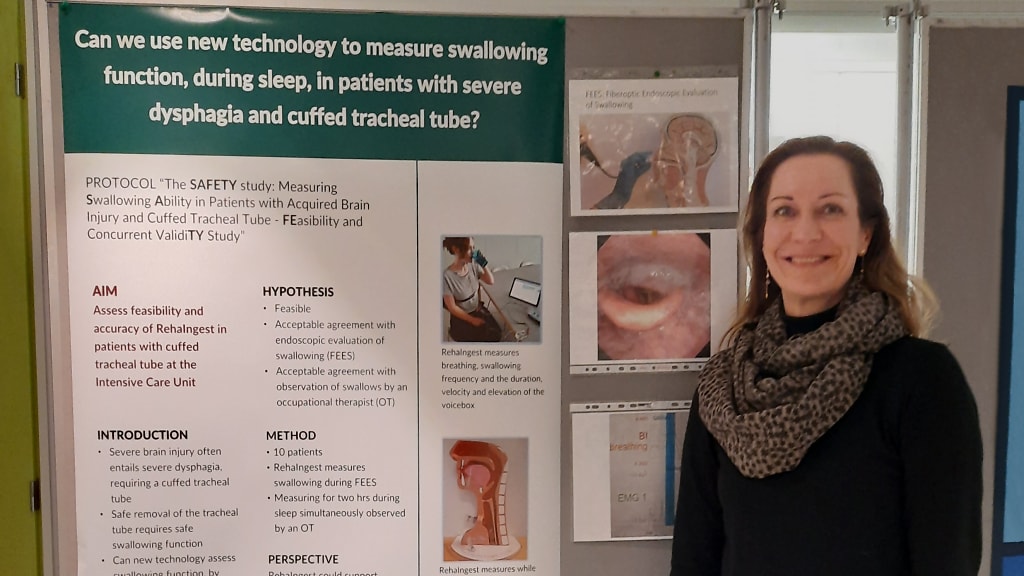 Last winter I presented this poster at the regional symposium on research and development in occupational and physiotherapy in Copenhagen at Rigshospital. It describes a project that starts this year.
With RehaIngest, a measuring device that works with electromyography and bioimpedance, I will measure the swallowing frequency and swallow-specific parameters over a longer period of time in ten patients with tracheal tube.
I am pleased about the support I receive for this project from many sides in my professional environment, not least from my colleagues from the SIG.
At the posterwalk I even won a book prize for my poster. Anyone who has ever designed a scientific poster knows that it is quite a challenge and that you have to make many decisions when creating it. But it's also fun.
PhD Projekt
In another, exciting PhD project of a colleague from the Rigshospital, I am integrated as a project employee.
Here we want to track the process of weaning patients from the tracheal tube in various intensive care and neurorehabilitation departments in Denmark.
For measuring or examining patients the staff shuttle bus takes me, my technical equipment and my bicycle back and forth between the buildings of the Rigshospital during the working day.
After all, there are 15 km to cover, which would take much longer by public transport or by bike.
An innovative idea, I think, especially in rain or snow or when the Danish lowlands are hit by gusts of wind. Usually there is ALWAYS headwind 😉
Outlook
I look forward to keeping you up to date at one of the next SIG meetings ...
With which projects or ideas for projects do you start the new year? In which field do you want to deepen your professional knowledge?
Further information